Introducing Propel Seated Cross Trainer for elderly people – Biomechanically designed Seated Cross Trainer to reduce Knee Pain, Back Pain and improve Body Posture.
Free Gold Coin*
Save Upto Rs.7200*
No cost EMI - 1666 x 12 EMI.
Free Shipping
Free Diet Consultation
Benefits of working out in Seated Cross Trainer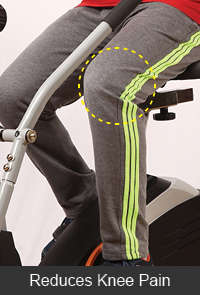 Reduces Knee pain & Back pain
Leg Muscles weakness is main reason for knee pain among elderly people. Due to this muscle weakness, knee joints takes the entire body weight and results in knee pain. Once you strengthen the thigh muscle and calf muscle, body weight is evenly transferred to legs instead of knee joints alone. This seated cross trainer helps you to stregthen the thigh muscles and calf muscles.

Seated Cross Trainer will engage and strengthen muscles in your abdomen, buttocks, lower back, shoulders, neck and arms. This improves body posture and reduces back pain.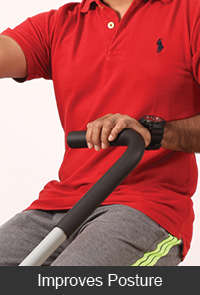 Good Posture is critical to reducing back and next pain. Seated Cross Trainer engages both upper body muscles and lower body muscles and it results in improving the body posture.

Good Posture keeps bones and joints in the correct alignment so that muscles are being used properly. Its helps to decrease the abnormal wearing of joint surfaces. Decreases the stress on the ligaments holding the joints of the spine together. It prevents the spine from becoming fixed in abnormal positions. Good posture means your vital organs are in the right position and can function at peak efficiency.
Salient Features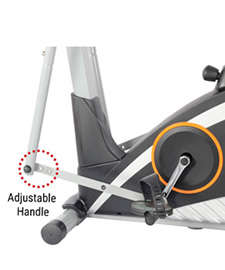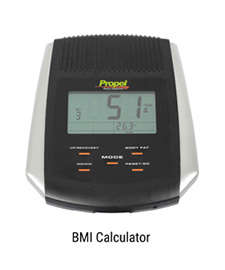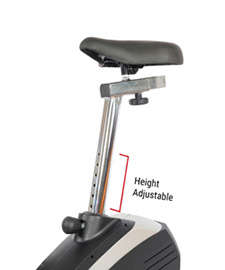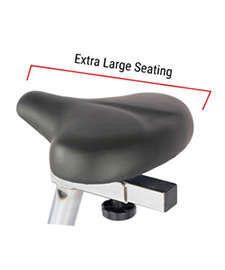 Frequently Asked Questions
Why is it called Seated Cross trainer?
These are stationary exercise Seated Cross Trainer which gives dual benefits of riding a cycle as well as upper body benefits of using an elliptical cross trainers.

I am heavy. Can I use this machine?
Due to its sturdiness, users weighing up to 100 kg can use this equipment.

Can I reduce weight by using this machine?
This machine helps in burning calories. We recommend you to go for 20 – 40 minutes, 3 to 5 times a week to have a positive impact*. Always consult a fitness expert before getting into any fitness program.

What is the cost of this equipment?
MRP is Rs.25,900 and currently we are offering it at Rs. 22,995. We also have special offers for Bajaj Cardholders. No cost EMI Rs. 1725 * 12 months without any additional cost.

I have back problem. Can I use this machine?
The width and the cushion of the seat reduce the strain on the back. However if you have an acute back pain kindly consult our expert before starting your workout.

I am 50+, Can I use this machine?
Like any other exercise Seated Cross Trainer, propel Seated Cross Trainer can be used by anyone. This is also ideal for elderly people considering the special features.

Use Code: EXTRA
Save Upto Rs.7200*
No cost EMI - 1650 x 12 EMI bajaj card holder click here
Free Shipping
Free Diet Consultation
Call 9790940307 for more details
Testimonial
Sunday,Monday,Tuesday,Wednesday,Thursday,Friday,Saturday
January,February,March,April,May,June,July,August,September,October,November,December
Not enough items available. Only [max] left.
Browse Wishlist
Remove Wishlist